杨洁勉会长出席中非智库论坛第十届会议并发表主旨演讲
10月20-21日,杨洁勉出席在中国的杭州和塞内加尔的达喀尔两地联合举办中非智库论坛第十届会议(线上线下相结合)并在第一次全体大会上发表题为"中非命运共同体的世界背景和全球意义"的主旨演讲(要点附后)。会议由中非合作论坛中方后续行动委员会秘书处主办,浙江师范大学与中非相关政府部门、研究机构共同承办。会议邀请了中非双方政府官员、著名智库领袖、知名智库专家学者、中非媒体、企业代表、部分非洲驻华使节、浙江省"一带一路"智库联盟成员单位代表约400 人就中非合作开展深入研讨。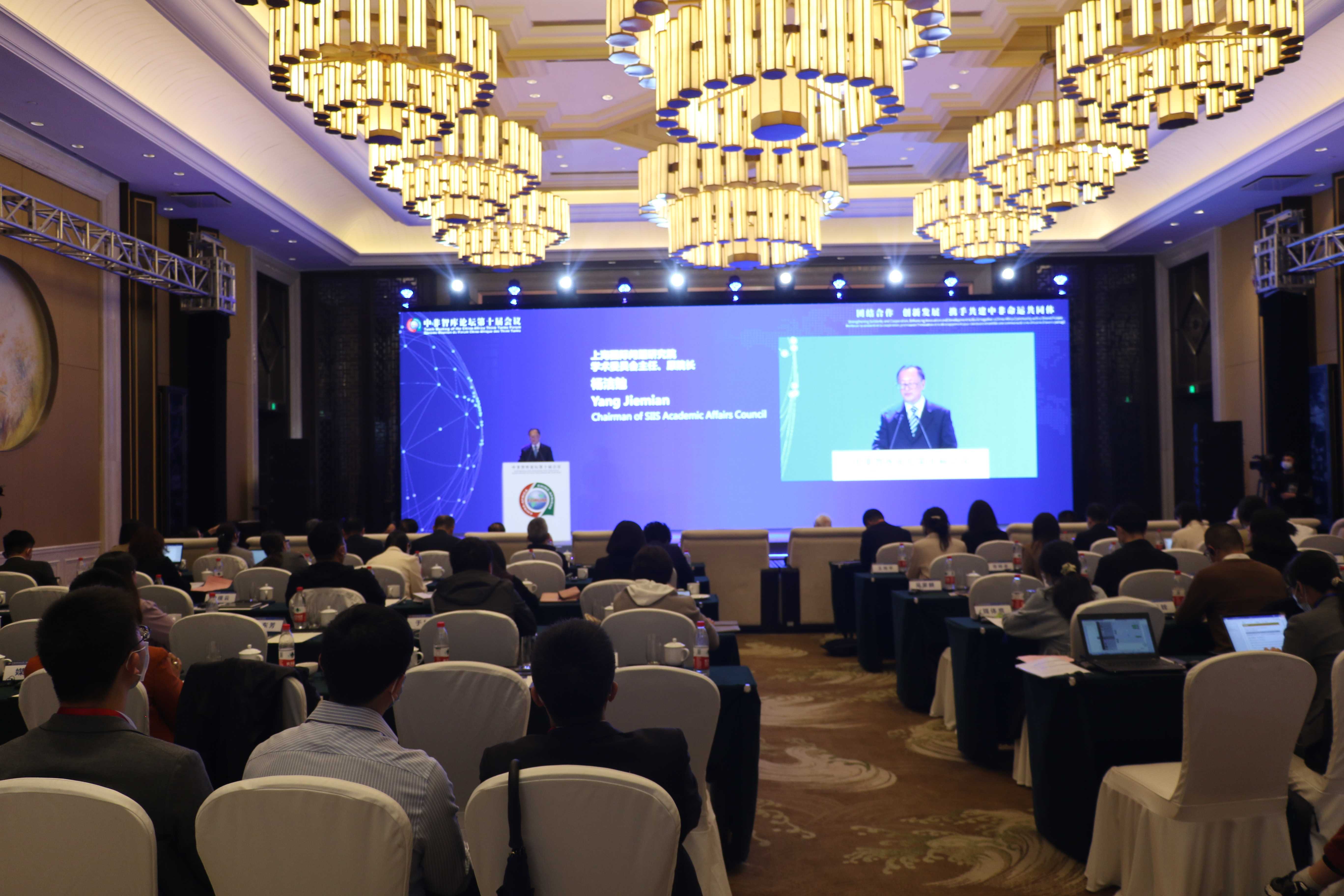 大会会场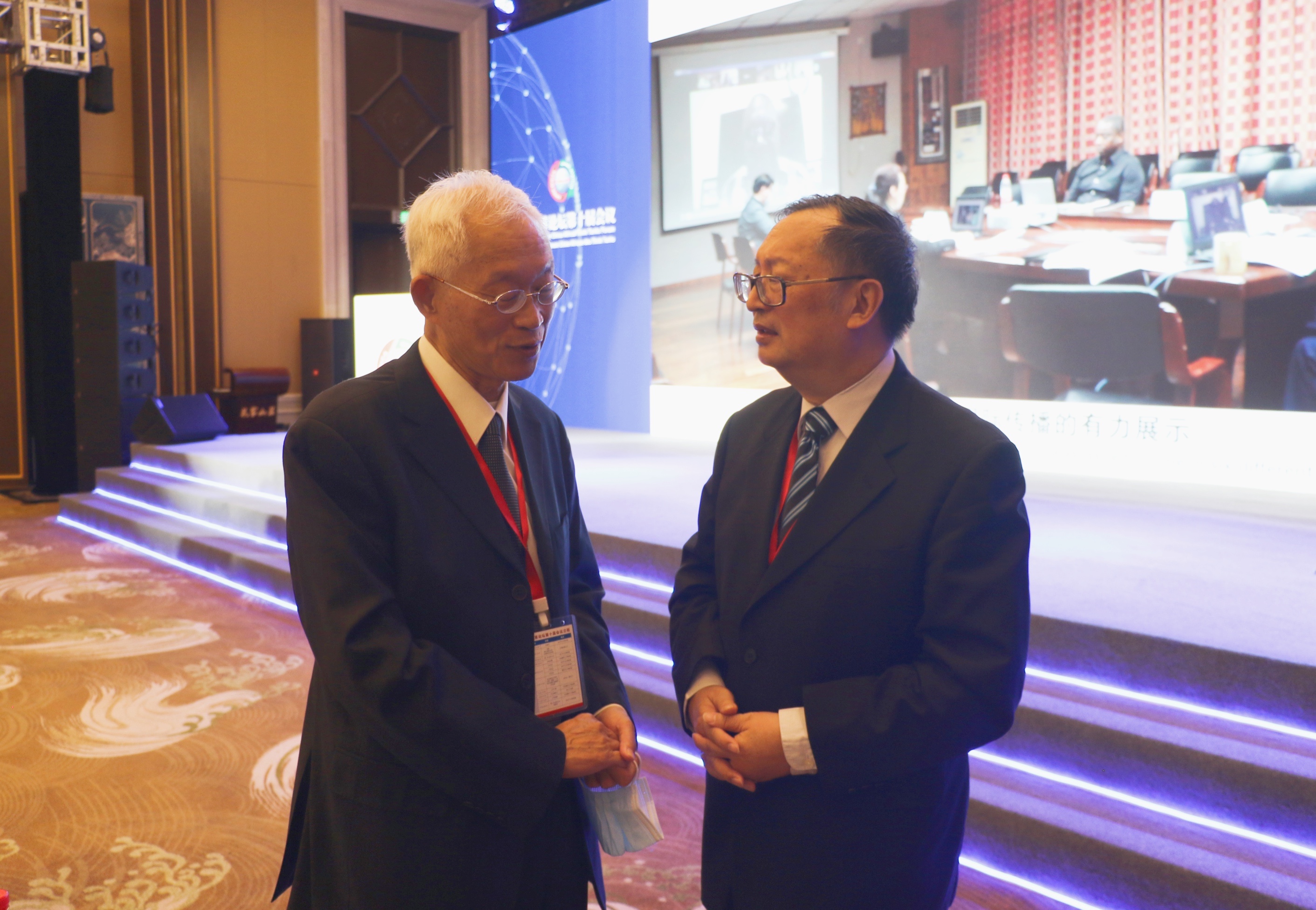 杨洁勉会长和首任中国政府非洲事务特使、七一勋章获得者刘贵今大使交谈
China-Africa Community with a Shared Future: Its World Background and Global Significance
(中非命运共同体的世界背景和全球意义)
China and Africa have consistently been building a closer community of shared future since the two sides became politically independent and economically developing. The Chinese President Xi Jinping has made a great contribution to this great course of human progress. Now the China-Africa Community with a Shared Future (hence, The Community) has become a special term as a milestone in the relations between the world largest developing country and region. Moreover, the Community has caught increasing attention not only in China and Africa but throughout the world. As a think tank people on international studies, here I would like to share with you my understanding and analysis with a view to its the world backgrounds and global significances.
In addition to its internal dynamism in China and Africa, the external factors have also made great contribution to its fermenting, shaping and developing.
The Community has a deep root in the great trends of political independence, economic development and social progress on the Asian and African continents during and after the World War Two in the mid-20th Century, which I would call it Version 1.0 of the Community Building. Version 2.0 started at the turn between the 20th and 21st Centuries, China-Africa cooperation was further enhanced by such historic trends as economic globalization, inter-regional cooperation and international efforts to jointly meet such global challenges as international terrorism, massive natural disasters and financial crisis. All these internal and external factors combined gave the birth of the Community both in practice and with conceptions.
Version 3.0 of the Community Building coincided with the third decade of the 21 Century in a spirit of keeping pace with the times in a fast-changing world. In my humble opinion, the new world context is shaping the Community building in the following three new features compared with Versions 1.0 and 2.0.
Firstly, China and Africa are continuing to rise and fill in new momentum in promoting multilateralism and improving global governance. China and Africa showed their progressiveness in fighting against colonialism, imperialism and hegemonism in the past and now call and strive for a new global governance which emphasizes on enhancing production and fairer distribution of global wealth, materially, scientifically, technologically, intellectually, etc.
Secondly, China and Africa are pursuing their lofty goals in a realistic, pragmatic and incremental way. China and Africa are fully realistically aware that the present world is far from perfect, and they must base their strategies and policies on the real instead of imagined world. In the meantime, China and Africa are pragmatic enough to attach importance to the neediest demands of their peoples and make them have more senses of gaining and satisfaction. Besides, China and Africa adopt incremental strategy by setting up near and mid-term goals as building blocks for the great structure of the long-term future. Consequentially, both sides are integrating their bilateral cooperation with their long-term plans: China has a two-step plan for the coming 30 years for 2050 while the Africa Union has the Agenda 2063.
Thirdly, China and Africa are taking their cooperation to boost inter-regional cooperation in the world. After the elevation of Forum on China-Africa Cooperation (FOCAC), the world has seen more relevant mechanisms such Europe-Africa, India-Africa, South Korea-Africa and US-Africa ones. The intentions vary from one country/region to another but all point to the fact that to work with Africa is an inevitable must.
It goes without saying that every coin has two sides, and so does the Community building. The development path of the Community is full of challenges and difficulties. In term of the Community's present and future tasks and missions related to world backgrounds, the two sides should work together to meet the challenge of COVID-19 and the like to bring the world to the right track. They should also continue to develop themselves respectively and jointly, especially in such fields as infrastructure-interconnectivity, public health, alleviation of poverty, green economy and narrow the digital gaps. They should further raise high the banner of just and equity, and firmly oppose hegemonism and fake multilateralism.
If Versions 1.0 and 2.0 of the Community building are respectively of a desire and trial, then Version 3.0 would be of implementation by strategic or structural planning, institutional or framework building and multilateral synchronization or roadmaps.
In terms of strategic planning, the Community should extend its cooperation into broader and deeper global affairs, not only in the fields of material cooperation, but also conceptual and cultural building, thus providing solider foundation for its greater rights of discourse in agenda setting and system building.
Speaking of institutional building, there are at least three major tasks. Task One is to improve what the Community has already had such as FOCAC and Road and Belt Initiative (R&B). Task Two is to adapt and update the existent institutions to meet the present and future needs, such as upgrading thematic and functional cooperation in joint research and financial management between China and Africa. Task Three is to create more inclusive institutions to cooperate with other parts of the world and in new fields.
As regards multilateral synchronization or roadmaps, China and Africa should think and act with a world outlook that is comprehensive and forward-looking. While the relevant governments are busy with their day-to-day work, we think tanks should have high senses of historic missions and professional responsibilities. Such thinking and doing would enable our coming generations to record and evaluate with admiration and proud for our due contribution in the history.
When we are entering the second decade of the Think Tank meetings, we should not only be proud of what we have achieved, but also what we are going to strive for in the future. With historic missions in minds, we should work hard at starting a new page of China-Africa cooperation in general and think tank interaction in particular.