杨会长出席中国和裁会与美国芝加哥全球事务委员会联合举办的"中美关系与全球治理"视频交流会并作主题发言
10月20日,上海国际战略问题研究会会长杨洁勉出席由中国人民争取和平与裁军协会和美国芝加哥全球事务委员会共同举办的"中美关系与全球治理"中美学者视频交流会,并就会议主题发言(要点附后)。美方出席会议的有:芝加哥大学教授米尔斯海默(John MEARSHEIMER)、美国企业研究所高级研究员库帕(Zack Cookper)、老布什中美关系基金会会长法尔斯坦(David Firestein)和芝加哥世界事务理事会政治和外交计划主任阿伯特(Matt Abbott)。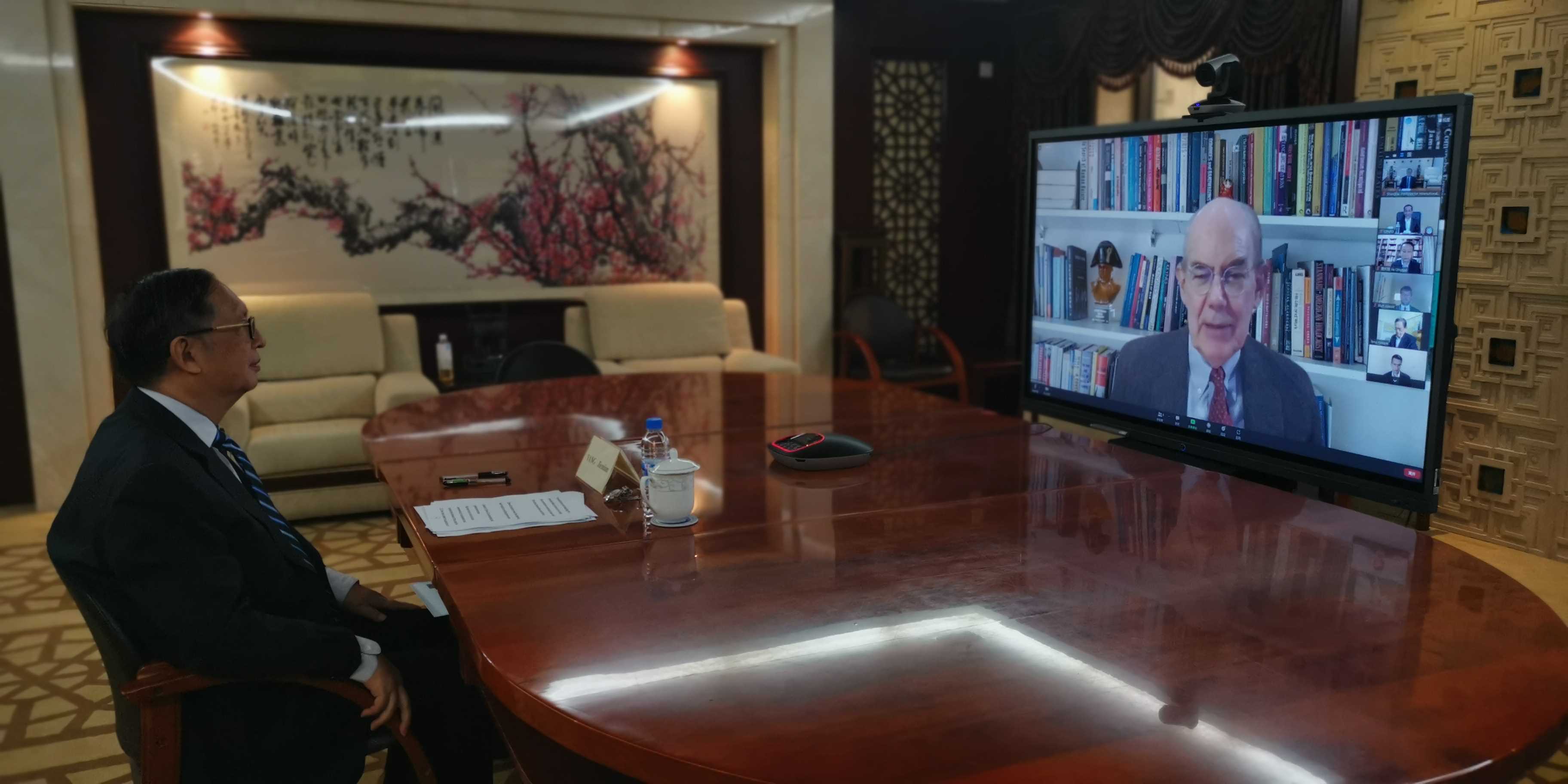 China-US Relations and Global Governance
(中美关系和全球治理)
First of all, China-US relations is one of the most important bilateral relations of the world, and its significance and impacts are global and lasting. As President Xi pointed out in his phone communication with President Biden on September 10: Whether China and the United States can handle their relationship well bears on the future of the world. Getting the relationship right is not optional, but something we must do and must do well.
As a matter of course, China and the United States did have positive experience of promoting global governance by joint efforts to tackle with the financial crisis in 2008 and signing the Paris Accord on climate change in 2015. Indeed, China-US cooperation is definitely a prerequisite to any meaningful global governance at present and in the future.
Having said so, the present conditions of China-US relations are not in good shape. Therefore, this most important bilateral relation in the world today must be brought back to the right track so as to serve a good base for good and effective global governance. The two countries must make respective and joint efforts to halt further down-spiraling of China-US relations by presidential leadership and building-up of the positive. The most realistic and feasible ways look lie in climate change, economic and trade interchanges as well as further improving the political and diplomatic atmospheres. The Chinese side also note that President Biden's reiterating his position not to seek for a new Cold War at his UNGA speech on September 24 and that US State Secretary Blinken issued a positive congratulatory statement on China's National Day on September 30 as he said that the US seeks to work cooperatively [with China] to solve the challenges we all face.
It should be also pointed out that global governance is not merely a passive receiving end. The universal demands for better global governance and some concrete progress would also promote better China-US relations. For instance, President Xi's participation to the Climate Change Summit on April 22 initiated by President Biden and the two presidents' joint promotion of COP-26 Glasgow Summit in November have obviously positive impacts on China-US relations as well. Some other instances include global combat against COVID-19 Pandemic and the Afghan issue.
If the US moved Cooperation from the last place of its Three-C policy towards China to the first place, many more opportunities and possibilities would come out. China and the United States could coordinate their positions on the reform of the United Nations in general and the Security Council in particular. The two countries could also start to exchange views in outlining principles and institutions related to specific global governance ranging from public health to cyber security. Still more, the two countries could further move into the areas of science and technology, etc.
To achieve these significant and far-reaching targets, the two governments hold an extremely important key position in theory but are greatly constrained in reality. Therefore, the think tank people like us could play a pioneering role in conceptualizing and designing the relevant global governance to help the practitioners eventually enter into the actual preparation and efforts.